Vanya and Sonia and Masha and Spike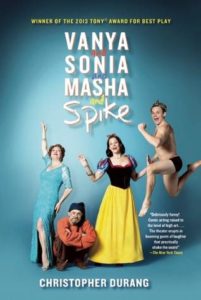 Altarena Playhouse is holding auditions for the Tony Award winning comedy Vanya and Sonia and Masha and Spike, by Christopher Durang, directed by Sharon Huff. Show runs 1/19-2/25.
Seeking:
1M (50's)
1M (20's)
1F (20's)
3F (30's/ 50's)
Rehearsals evenings, some weekends 10/15-1/19, holidays excepted.
Auditions Dates
8/15 from 7-10pm
8/19 from 1-4pm
Callbacks may be added.
Actors will read audition sides, but please be familiar with the piece, no appointment, no AEA, there is a stipend.
Audition Location
Altarena Playhouse
1409 High Street, Alameda
Please contact Director at s.y.huff@gmail.com with any questions or for further information.