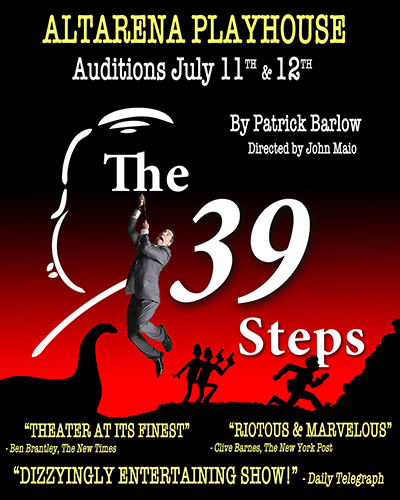 THE 39 STEPS
By Patrick Barlow
Auditions July 11 & 12 (by appointment)
Direction: John Maio
Lighting & Sound: Michael O'Brien
Stage Manager: Vicki Zabarte
Altarena Artistic Director: Katina Letheule
Audition Requirements:
Cold read from script. No monologue required. Comedic Stage British, Cockney, Scottish and German accents are required and outlined in the sides that will be provided after sign up. Be prepared to attempt all dialects pertinent to the character.
Non-AEA / Stipend. Altarena Playhouse does not discriminate on the basis of an individual's race, ethnicity, gender, sexual orientation, or disability. We are seeking a diverse list of artists for every role and encouraging all to submit.