When:
February 23, 2021 @ 7:00 pm – 8:30 pm
2021-02-23T19:00:00-08:00
2021-02-23T20:30:00-08:00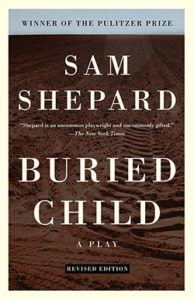 Sam Shepard's Pulitzer Prize-winning Buried Child takes place in an old farm house, somewhere in Illinois. We are introduced to Dodge, a cranky, sarcastic alcoholic on his death bed, and his chatty, oblivious wife Halie. As Dodge's health devolves, the prodigal sons return: Tilden, who has come back into town after having run into some trouble in New Mexico, and Bradley, who seems to live nearby and only has one leg, having lost his other one in a chainsaw accident. Their lives are a whirlwind of chaos and confusion. It is not quite clear why everyone is acting so strangely until Tilden's other son, Vince, comes home, after six years' absence, with his girlfriend Shelly in tow. As old secrets from the past rise to the surface, we see newcomer Shelly try to fit the pieces together. As the family tries desperately to keep the past in the past and stay afloat, the darkest of secrets begin to come to light. Alternately funny and darkly macabre, Buried Child weaves a twisted family drama of epic proportions.
Join the Altarena Playreaders Facebook group for the Zoom link or email us at