Theatre Trivia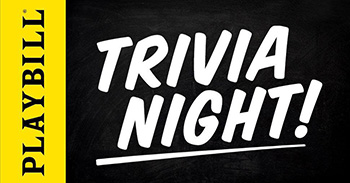 Wednesday, September 23
Join by yourself, with others, or invite more people to participate. We'll randomize teams in small groups, and then continue with 20 questions related to theatre history, performers, titles, songs, gossip, fun stories, etc.
Check out our Facebook page for the Zoom link or email us at
Saturday Morning Storytime
Thank you to those who attended our first Saturday Morning Storytime Event! Fun for Children and Adults, anyone now has access to view this archival recording of the event for 30 Days (to end October 18, 2020). Our Storytellers featured: Katina Letheule, Samira Mariama, Peter Marietta and Jacqui Herrera. We are looking forward to sharing with you again on Saturday, October 24th at 11am for our next Saturday Morning Storytime. If you have questions, please email
Playreaders Discussion Group
Wednesday, September 30
The Effect of Gamma Rays on Man-In-The-Moon Marigolds, By Paul Zindel
Winner 1971 Pulitzer Prize for Drama, Winner 1970 Obie Award, Best American Play, Winner 1970 New York Drama Critics Circle Award, Best American Play
Supporting herself and her two daughters by taking in a decrepit old boarder, acid-tongued Beatrice Hunsdorfer wreaks a petty vengeance on everyone around her. Her older daughter, Ruth, is a highly strung girl subject to convulsions, while her younger daughter, Tillie, plain and almost pathologically shy, demonstrates an intuitive gift for science. Encouraged by her teacher, Tillie conducts a botanical experiment, winning a prize at her high school. Proud but jealous, too filled with her own hurt to accept her daughter's success, Beatrice can only maim when she needs to love and deride when she intends to praise. Yet, as Tillie's experiment proves, something beautiful and full of promise can emerge from even the most barren, afflicted soil.
Paperback available on Amazon and at Samuel French. Kindle copy available.
Join the Altarena Playreaders Facebook group for the Zoom link or email us at