Tuesday, January 26, 7 PM
Orpheus Descending by Tennessee Williams
An American variation on Greek mythology, Orpheus Descending tells the story of Lady Torrance, a Sicilian immigrant in a small Southern town. She watched her father's American dream go up in flames when the local Klan burned down his wine garden, a conflagration in which he perished. She now serves in purgatory as the manager of the general store owned by her ancient husband, Jabe. She sees a possibility for salvation, however, in handsome drifter Val Xavier, who takes a job in the store after his car breaks down. Despite the fact that he is a stranger in these parts (or perhaps because of it), Lady instantly feels a connection to the mysterious loner with a guitar always at his side. The play exhibits many of the playwright's typical themes: loneliness and desire, sexuality and repression, the longing for freedom. Violence lurks just below the surface, and it bursts into the open at the play's end. The play is also rich in imagery, lyrical language, and symbolism.
Join the Altarena Playreaders Facebook group for the Zoom link or email us at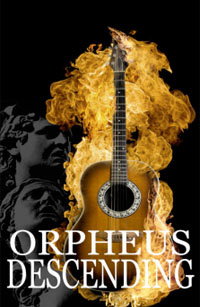 Thursday, January 28, 7 PM
In this interview series, hosted by Joe Mallon, we explore what it is like to be an artist living in the Bay Area. Our guest for January is award-winning playwright and composer Min Kahng. His musical Song of the Nightingale had its World Premiere at the Altarena in 2013. Kahng is an alumnus of the Playwrights Foundation's Residency, Djerassi, the Kimmel Harding Nelson Center for the Arts Residency, Berkeley Rep's Ground Floor, and the TheatreWorks New Works Festival. Please join us for what we know will be a very enlightening interview.
Don't miss out—click below to subscribe and keep in touch with us!